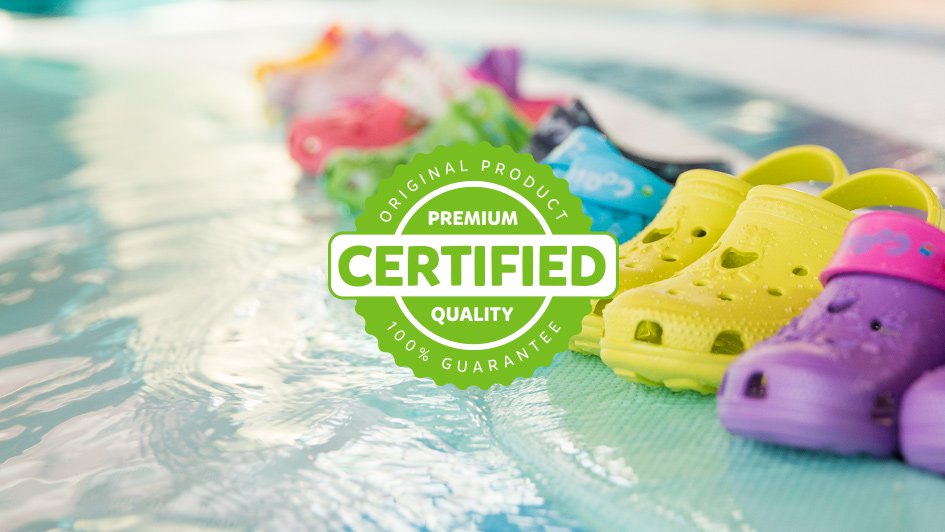 The summer with Coqui without worry
Institute for testing and certification based on the Avenue of Tomas Bata in the city of Zlin, Czech Republic, has a very good name after Czech giant and expert on footwear. The health of our clients, from the little ones up to the most grown-up is our absolute priority. For the production of our shoes, we use high-quality, durable, safe, antibacterial and healthy materials. And to present you a credible confirmation of this assertion, we let at least some of our models undergo the test just in this institute.
Safety and security for the little ones
First, something for the little ones in the form of all-plastic open shoes Coqui Little Frog and Coqui Froggy. These shoes use CoquiAirTM material and the results of the certificates are great news for us but also for you, our regular and prospective customers. The testing confirmed the outsole really meets slip resistance under dry and wet.
Protection of the romping children against shocks on their joints and spine, in turn, ensures our material with a good energy absorption in the heel. The outsole reliably helps absorb shocks and vibrations at step impact. Moreover, the footwear has undergone testing in terms of health, proving the contents no heavy metals nor other chemicals.
Thus, we would like to reassure all the moms who have decided to give their toddlers the best. Our shoes are light and comfortable, the materials are antibacterial and your feet have the best comfort in them. Coqui products are really safe and if you buy them for your tots, dear partners or yourself, you can have a perfectly calm conscience.
Safely to work
We all spend a lot of time at work, so we think of you even in this area. A guarantee of health for frequent pacing is our women's and men's shoes. They're really light and make your feet lighten. The certification has been passed by ladies and men's shoes Coqui Bodee, Coqui Nico and Coqui Kenso. They all along with all-plastic work shoes Coqui Tina have proven to meet the requirements set for light work shoes.
All of these models are made of CoquiAirTM or CoquiFlexTM material and the outsole resistant to abrasion is compliant with the requirements of CSN 79 5600. The footwear conforms slip resistance under wet. This fact is marked by the SRA symbol according to ČSN EN ISO 20347. Again, it was found to have a very good energy absorption in the heel as the shoes absorb shocks and vibrations at step impact. In terms of health, our work boots are totally satisfactory.
The outsole patterns of Coqui Bondee and Coqui Nico were also checked in terms of durability of the footwear bottom to prevent repeated bending and they passed reliably. Since that's also the footwear made of CoquiAirTM material, there is a guarantee of this feature being found at all our shoe patterns made of this material.
With a choice of neutral colors too, these shoes are popular with both ladies and gentlemen. If any of the above models is not found in the ladies' version, you can certainly choose from the men's ones, these models are so versatile that even men can put them on without fear. Our footwear ensures healthy walking, hygiene safety and the prevention of foot skin diseases. Treat your feet to great comfort, whether your profession is a baker, chef or stylist.
With our shoes, you can enjoy the summer without worry, full of carefree swimming and safety at the pool. With our models, you have a light step and feet pampered. Coqui brand combines comfortable convenience, quality workmanship, outstanding design and affordable price. We offer more than 150 models of sandals, slippers, flip flops, knee boots and winter boots. Coqui footwear brand stands out for its lightness, colorfulness and, not least, health and mechanical competence.